Setting up your live stream classes
By Lewis Hiigel
Published: Apr 24, 2020
Live streaming your services is a new and exciting way to rapidly grow your business outside the walls of your brick and mortar location. It enables current clients to attend your business while abroad, brings new clients into your community from nearly anywhere in the world, and gives your staff the flexibility to work remotely when necessary.
Thanks to Mindbody's Virtual Wellness Platform, you can now book and host live stream classes entirely through your Mindbody software.
In this series, we'll review how to enable and schedule live streamed classes in your software, how to host a live stream class, and how your clients can access your live stream classes.
Creating and scheduling live streamed services follows a similar process to any other service type, with a couple of additional steps. From the home screen, select Services & Pricing.
On this screen, you may notice a new switch in the upper-right corner of each Service Category. Clicking this switch will make all classes within that Service Category available to live stream.
There's no limit to the number of live stream classes you can have scheduled, or the number of live stream classes you can have running at once.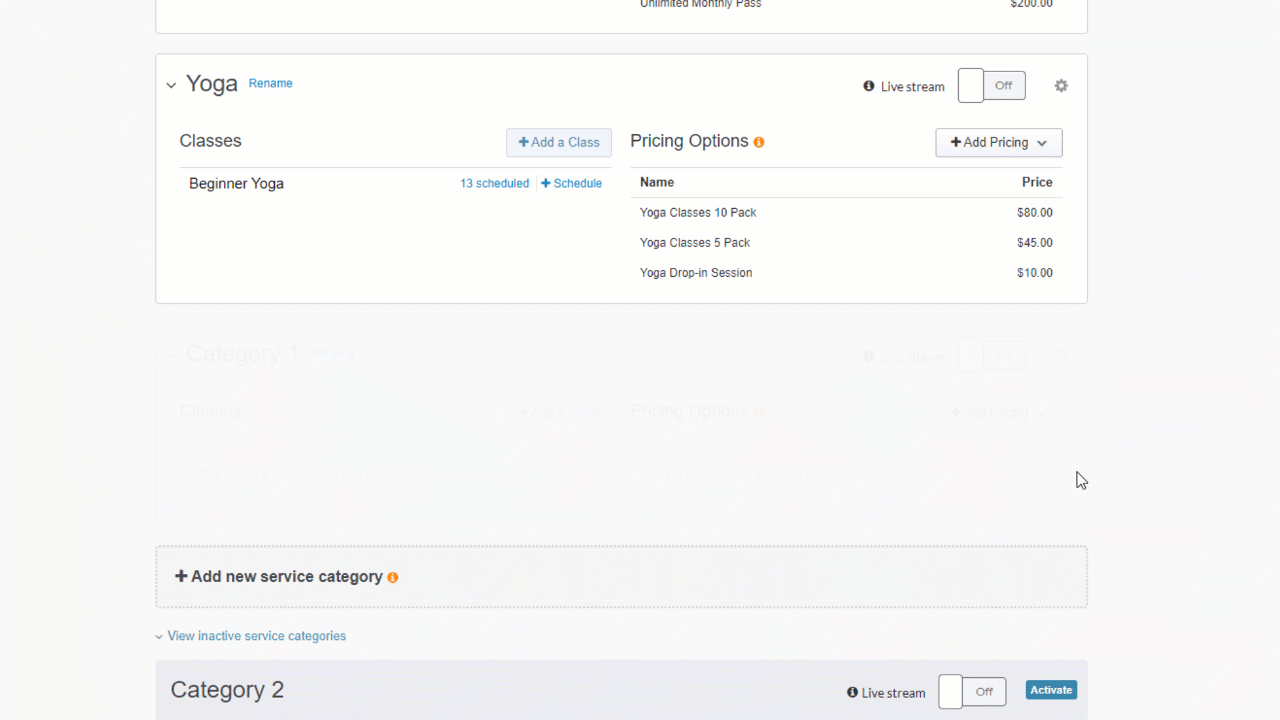 While it's possible to enable live streaming in your existing service categories, we recommend creating a separate service category for your live stream classes. This will allow you to have greater control over managing, pricing, and reporting on your virtual offerings.
---
Setting up new live streaming classes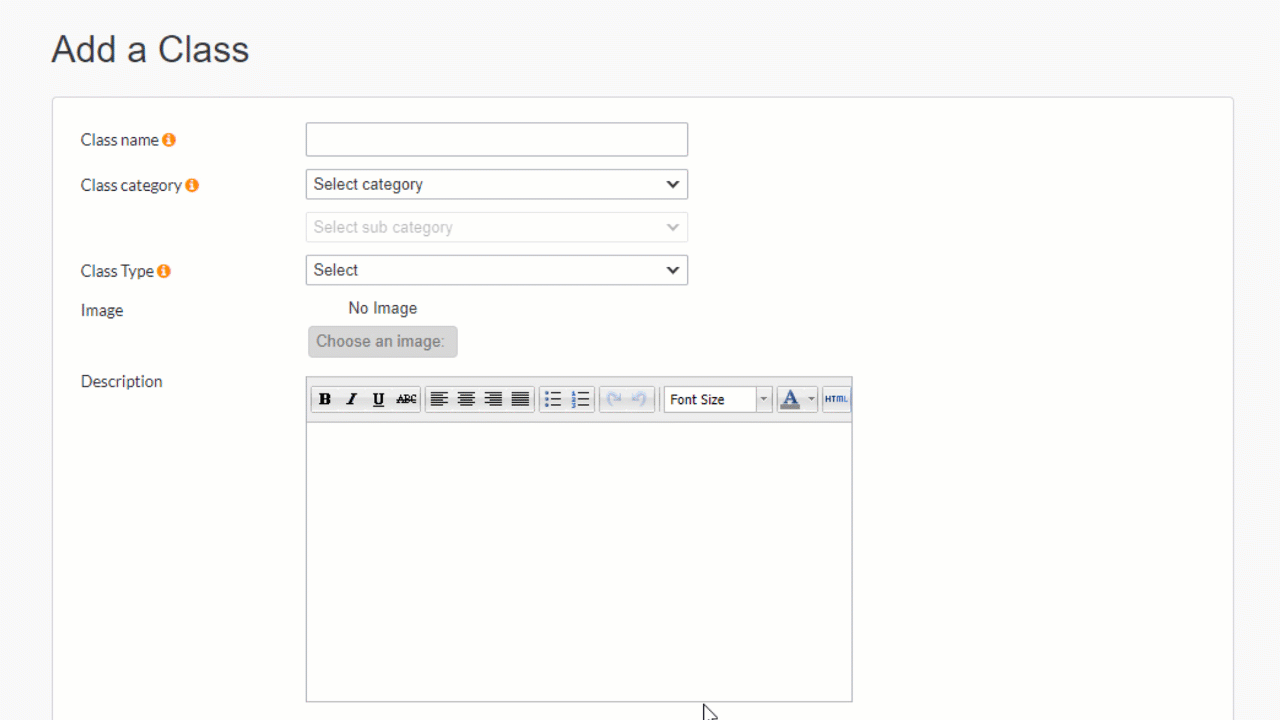 Be sure your class' title includes the term "Virtual." This will allow your classes to appear when clients search for live stream classes on Mindbody.io and in the Mindbody app.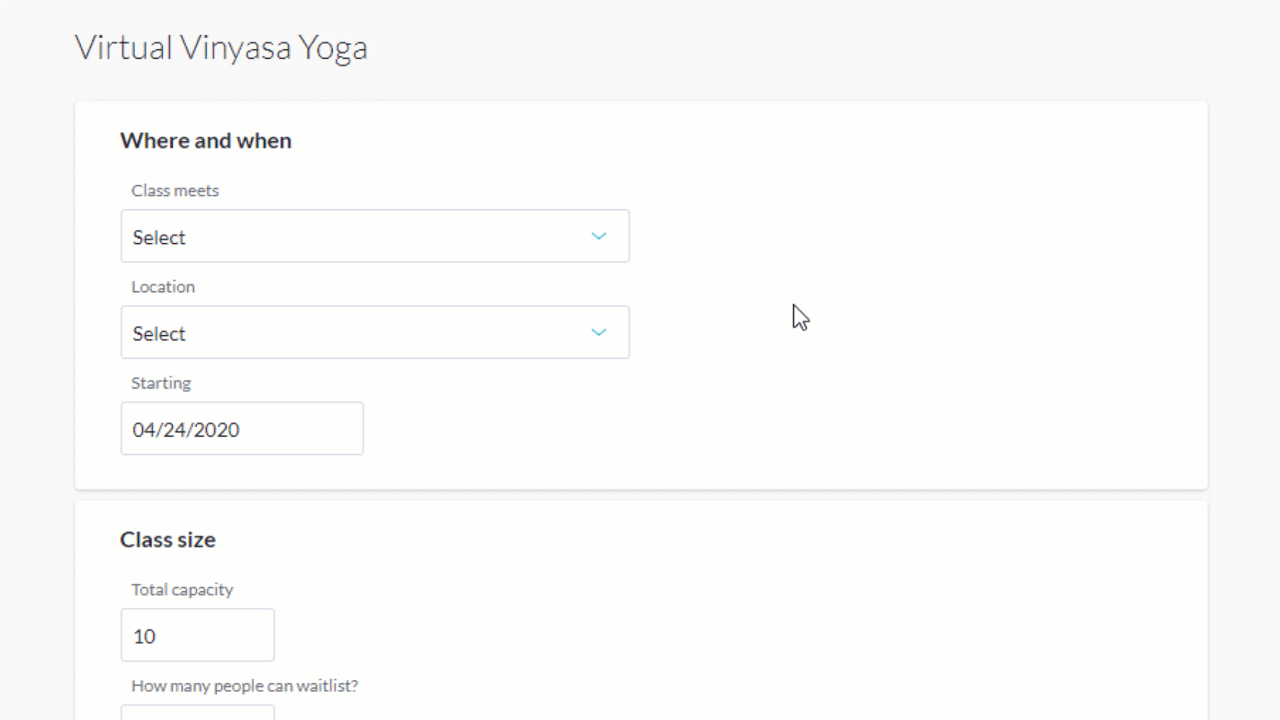 When assigning a staff member to the class, keep in mind: any staff member or owner can start the live stream class. However, the staff member assigned to the class will automatically become the host of the live stream when they join -- regardless of which staff member originally started the live stream.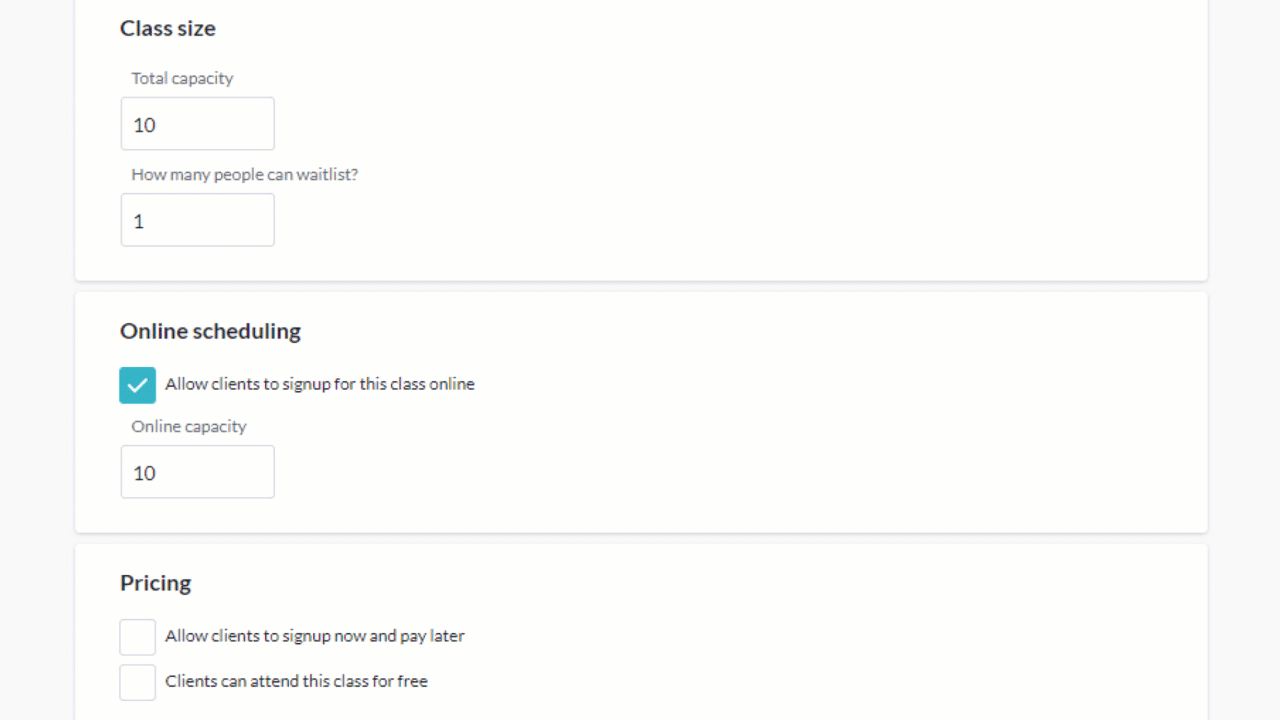 When creating a live stream class, we recommend raising your class' capacity to take advantage of the increased attendance that live streaming allows. Live stream classes have a maximum capacity of 250 participants, so feel free to set this to however many clients you feel comfortable teaching at once.
Once the class is created, go ahead and schedule as many sessions as you need. When scheduling, keep in mind that live streamed classes cannot be longer than 24 hours. A good length for a live stream class is typically between 45 minutes and an hour.
Next, you can either create new pricing options for these virtual classes, or create a pricing relationship with another service category. Using both methods can also be a great option, like if you want to implement a discounted "virtual only" pricing option, while still giving existing clients the option to book classes virtually or in person.
---
Repurposing existing classes for live streaming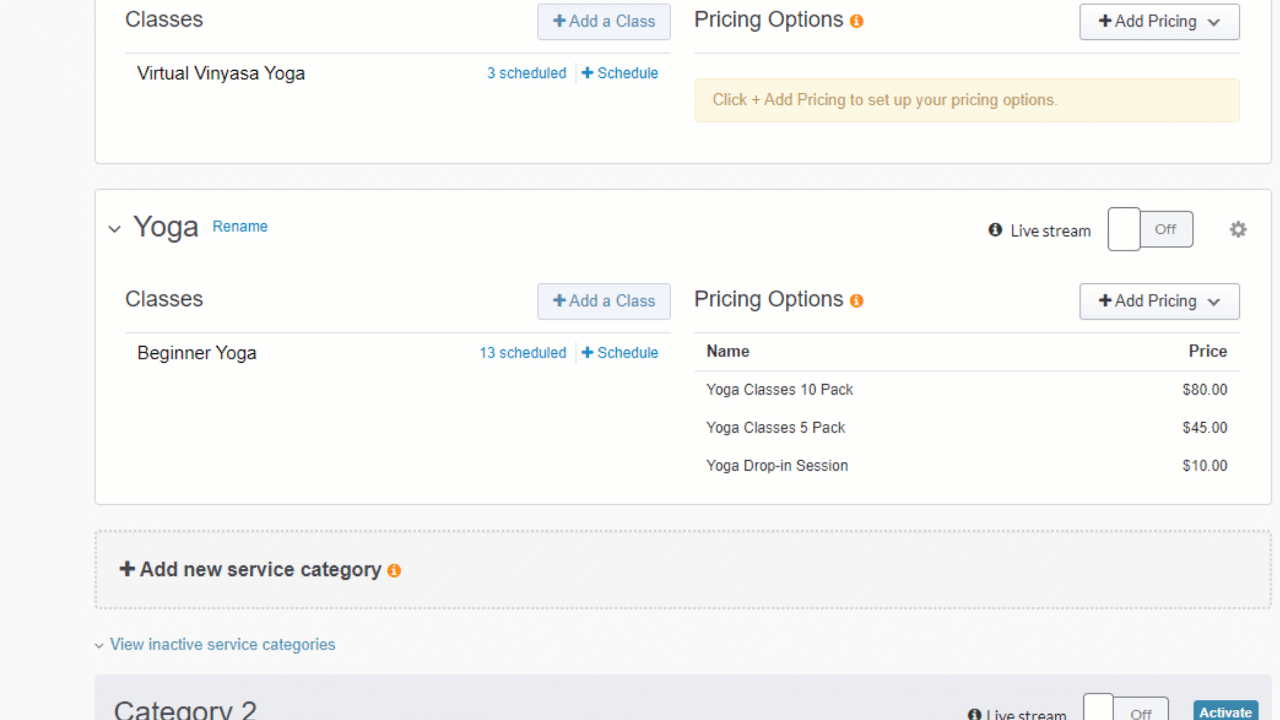 If you want to repurpose your existing service categories for live streaming, go ahead and rename any classes in that service category to include the "Virtual" keyword.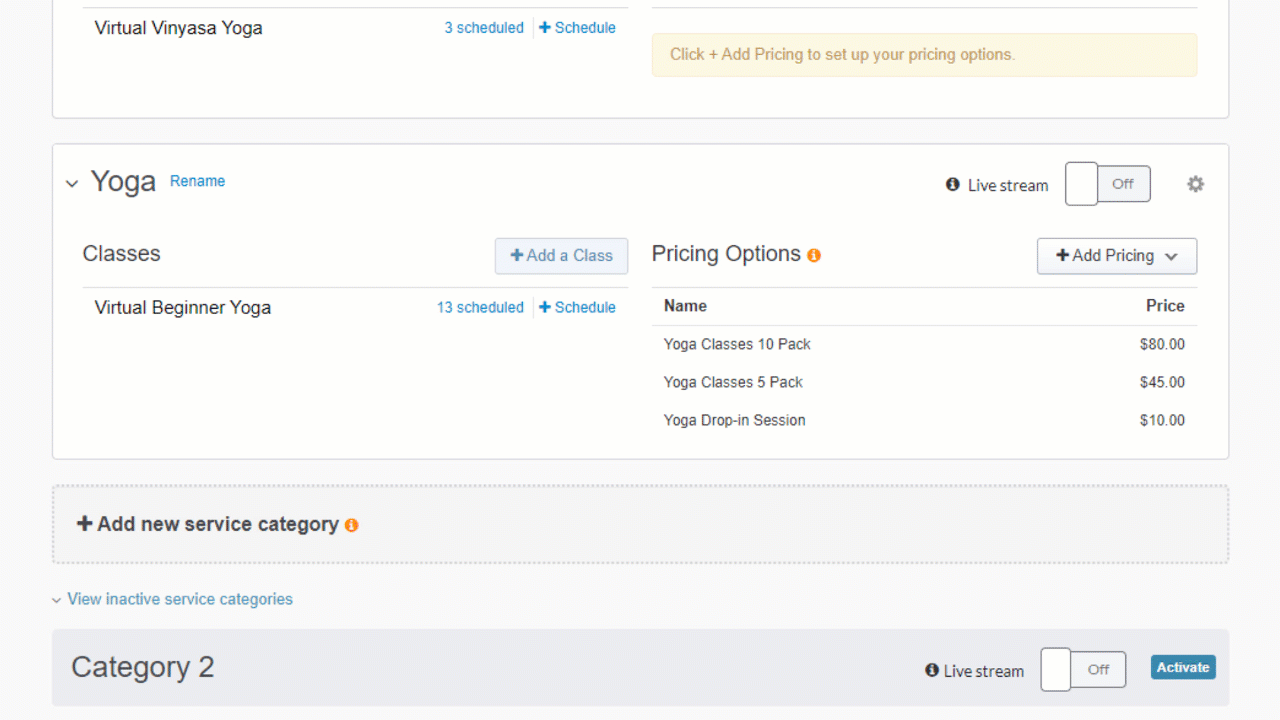 You'll then want to go to each scheduled session, update the class capacity to your preferred size, and make sure the staff member who will be logging in and teaching the class is assigned to that session. When you're finished, click Save, and repeat this process for the remaining scheduled sessions.
In the next lesson, we'll discuss how to host and run your scheduled classes.